There

are 3 adult teams and a growing junior section, as well as many projects that engage with people from all over the area.

We have 2 sets of Junior football training

If you are aged between 6 to 14 come on down:

Saturday mornings @ Aston Park astro
10 till 12
£1 a session

for quality coaching and a good atmosphere .... it's the Saturday Development Centre.

For more information visit www.astonfootballclub.co.uk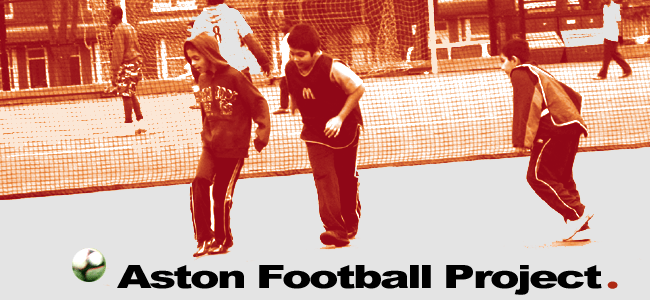 The Aston Football Project is a centre of development, targeting the growth of the community.
It is aimed at children 5 - 14 years old
and is run by the Aston Football Club Development Centre. The project aims to provide a safe, enjoyable outlet for local young people.

The Project will also support the growth of young people through developing their social, moral and intellectual skills.

Price: £1 per session
Time: Everyday Saturday morning 10 - 12pm
Place: Aston Park (Astroturf), Trinity Road, Aston, Birmingham, B6 6JD

Contact:
Zikel Notice, Head of Development & Project Manager

07445 966 899
astonfc@ymail.com

Twitter: @afcdev

Download the Registration Form here and turn up. We look forward to seeing you!